Submitted by

Gastheer

on Wed, 06/17/2015 - 4:16pm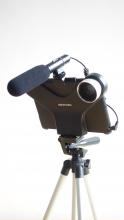 During the development of our iPad recording and uploading app, we needed a way to mount the iPad on a tripod. We found one. With the possibility to use an external microphone and, even more important for recording in small rooms: a wide angle lens.
You can use any tripod, the mount uses a standard tripod screw.
More info at: https://www.makayama.com
We are not affiliated with Makayama in any way, we have only bought 1 mini iPad mount....