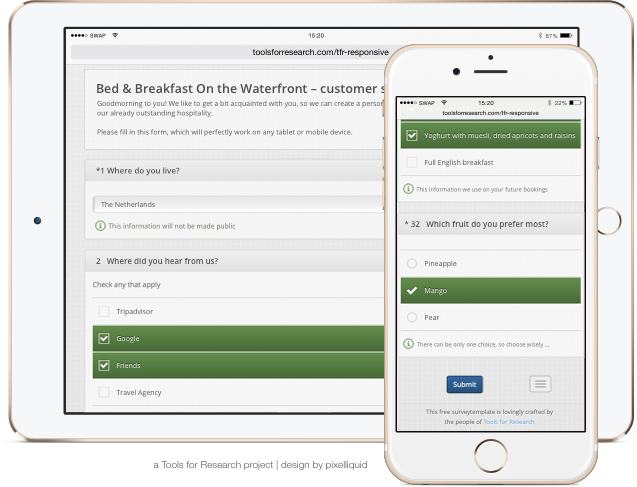 Why would you want a new responsive template for LimeSurvey?
We are convinced that an easy to fill in, quietly looking template makes online surveys easier to fill in and will lead to a reduction in non response. We found that all currently available templates do not meet our wishes, so we developed one ourselves. Since LimeSurvey is Open Source, we gladly share the free version with everyone that wants to use it.
What is Limesurvey anyway?
If you do not know what LimeSurvey is and are interested to know more, please visit our short explainer on Limesurvey.
Application
We have tested the template and the questions we normally use work on version 2.06 (and 2.05) of Limesurvey. We have not tested it on earlier versions, so it may probably not work on older versions (2.00 and before). The template will work fine on all modern major browsers. IE8 is not modern, so it will probably fail in that browser.
The current release (1.7.3) will not work with LimeSurvey 2.5x or 2.6x. We are working on a new release.
License
We offer the free template under the GPL2 License
Since we hope to distribute improved versions periodically, we hope that you send us your improvements, so we can incorporate them in newer versions. We cannot guarantee that we will incorporate all suggestions, but we will certainly look at them. Please subscribe to our newsletter and/or visit our website for news on the template.
Free, Premium, Custom: what is the difference?
 
Free
Premium
Custom
Bootstrap 3 based responsive layout
✔
✔
✔
Multilingual
✔
✔
✔
Usage of signal colors only
✔
-
Made to your specification
Multiple color variants available
-
-
Made to your specification
Support
Limesurvey Forum
Github Page
Support form
Support form
Error reports
Github Page
Support form
Support form
Responsive tables (for usage on mobile phones)
-
✔
✔
Better styling of question index
-

✔

✔

Basic styling of slider questions
✔
-
-
Improved styling of slider questions (indication if the slider moved at all)
-
✔
✔
Notification when new version is available
Newsletter
Personal mail to buyers
LimeSurvey Forum
Personal mail to buyers
New versions downloadable
1 year after purchase
After bug fixes through service contract
Warm feeling, because you support us in developing this template
-
✔
✔✔
Price
Free
99 dollar
depends on what you need...
 
Download
Order
Contact us!
Demo
To show you what we have made thusfar and how it looks, we also made a demonstration survey. This demo in LimeSurvey 2.06 uses the Premium template. 
Newsletter: please subscribe!
We will irregularly send out a newsletter announcing new releases and other useful stuff, like tips and tricks and a FAQ
Production
Defining the template and project management: Tools for Research
Design: Peter Emil van den Berg aka pixelliquid
Workflow and technical support: Clemens Tolboom
Inspired by Bootstrap and the work done in BootstrapForLimeSurvey.
December 2016